In which The Owl muses on all things cultural
Mayflies by Andrew O'Hagan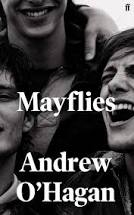 This book looked right up my street – an affectionate memoir of a group of seventeen-year old friends in Glasgow, forever bonded by their shared experience of growing up together as a band of brothers with their love of music holding them together. Then add to the mix a fast forward to contemporary Britain to see how they have fared in the intervening thirty-five years. It's structured in two halves -then and now- and it's almost brilliant. Almost, but not quite.
The first half, an evocative portrait of a group of friends on a mythical weekender to Manchester for a festival, with the obsession of the possibility of catching a glimpse of Morrisey in a club, is beautifully done. Anyone who experienced the salvation provided by a like-minded group of anti-establishment friends at that age, with the same passions, the same obsessions, the same devotions, will read this with a tear in their eye and a smile, as your own memories flicker in and out of focus. The power and significance of the music you listened to when you were seventeen – what pain, joy and agony it can conjure, even when catching a few bars of an obscure track in the gang's playlist.
The main protagonist, destined to escape working class Glasgow life through his intelligence and determination (and, classically, the devotion of the ubiquitous English teacher who encouraged him and pushed him on his path) is a sympathetic character who is transformed into a very successful writer, critically acclaimed and living in a hipster's paradise in a beautiful and expensive part of London. He has still remained connected to his roots, however, and to one friend in particular who stayed in Glasgow and who turned his talents to English teaching in a "Challenging " school where he has spent his entire career, inspiring generations of abandoned Glaswegians through his teaching and his humanity.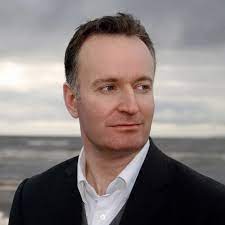 The second part reveals very early on that Tully, the Head of English back in Glasgow, has been diagnosed with terminal cancer. From then on the remainder of the novel charts how James ("Noodle") deals with this devastating news and helps Tully end his days at Dignitas. I hope that's not a spoiler, but the publicity surrounding the novel made the story very clear. There is tremendous sadness and grief and nostalgia, as you would expect, and the novel does not shy away from the anger and unreasonableness people show in these testing situations.
Pic: Andrew O'Hagan
But. And it's a big but. The second half goes on and on and on, seemingly without the watchful eye of an editor. And then I realised. This was autobiographical. This was O'Hagan's story. And the novel had become a therapeutic exercise for him, whereby every detail was included because the memory of his part of the second half was too significant to leave anything else out. I googled it, and it was true. This was O'Hagan's story, almost word for word, and just a year or so earlier. And Tully was, in fact, Keith Martin, his boyhood friend. So O'Hagan deals with grief so recent, it's still raw and it completely clouds his judgement.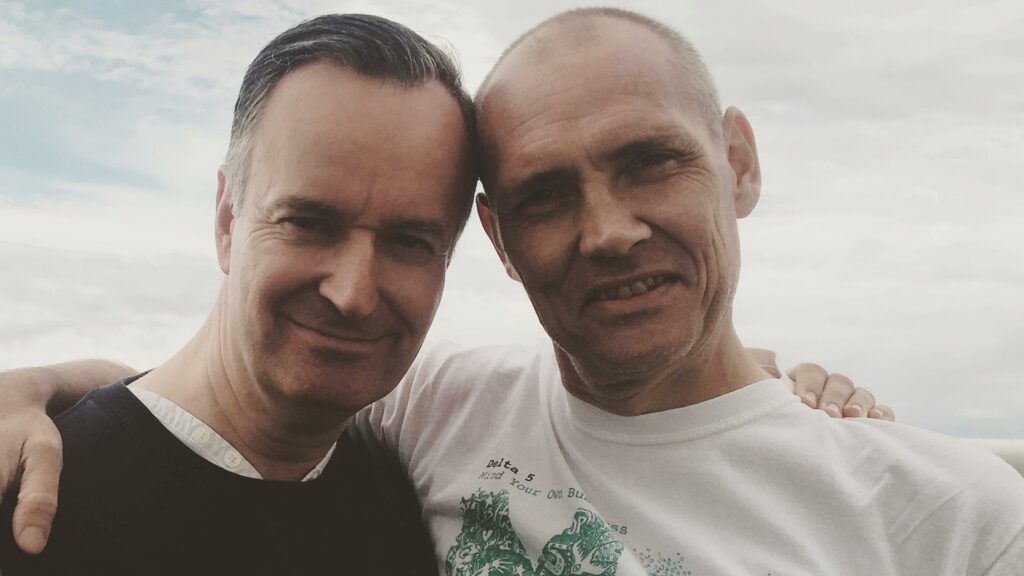 It's a familiar problem for a novelist, when you are casting around in your own autobiography for material for a novel and the first draft includes a load of stuff that is oh so significant to you, but which means diddly squat to your readers. And the editor was too sensitive to point it out. Or O'Hagan was too blinkered and determined to listen. It's a pity. I reckon that if O'Hagan had waited a for a few years, he would have written a masterpiece, with the benefit of some perspective. But then, sometimes, what the reader needs is irrelevant. The writer's human too. And if Andrew O'Hagan needed to write this book to work through his grief, who am I to carp, because it wasted half a day of my time. The friendship he delightfully and brilliantly portrays , a friendship we can probably all replicate in our own back story, deserves the epitaph O'Hagan decides to give it, in his own way and in his own terms. Narrative arc can sometimes take a back seat.
Pic: O'Hagan with Keith Martin in 2018
My Books of the Year, part 1
or in the words of Steven Patrick Morrisey, "There's more to life than books you know. But not much more, not much more."
It's great being retired or semi-retired as an English teacher. There's so much more time to read books. Here's just a few I got through in 2019.
The Amazing Adventures of Kavalier and Clay by Michael Chabon
What a treat this book proved at the end of a challenging year. An affectionate homage to the golden age of American superhero comics from the thirties onward, this book tells the story of two Jewish creative entrepreneurs, who take New York by storm, making and losing a fortune on the way. Sammy Clay is troubled by his closet homosexuality, while Joe Kavalier, his cousin, a recent emigre from Nazi- occupied Czechoslovakia, is tormented by the failure of his plans to engineer a similar, life-saving escape for this younger brother Tommy. This is an emotional, engaging and exciting read. Beautiful.
Sweet Sorrow by David Nicholls
When Nicholls gets it right, he really gets it right. His style, so lucid, so transparent, so non-tricksy, effortlessly carries the reader through the book as if it's the easiest thing in the world. You almost don't notice you're reading, the book just happens in front of you. In that sense, it was like drinking a long cold glass of water when you're thirsty on a hot summer's day. A lovely, affecting story of a boy's first serious seventeen year old love, one long hot summer while taking part in an outdoor pro9oduction of "Romeo and Juliet"
The Testaments by Margaret Atwood
I read this not having read "The Handmaid's Tale" (I know, shocking), but having watched and enjoyed the TV adaptation. Or at least enjoyed the first series. So when it suddenly appeared on the New Books shelf of my local library, it seemed like providence was forcing my hand. And I'm very glad it did because it was a fabulous book. It seemed to be part of what is a very modern phenomenon, a creative interaction between film, television and literature. (See also Game of Thrones) The book expects familiarity with the TV version and builds on that. The result was a satisfying conclusion to the dilemmas posed by the Dystopian world created by the original book and sustained by the subsequent television series. A worthy Booker winner.
Quichotte by Salman Rushdie
Another gift in a Booker promotion by my library. I was seduced by the pristine crisp pages of a new, untouched hardback, with its perfect polythene wrapper glistening under the strip lighting. When I had seen the book listed, I was at first rather cynical about it. I must confess I hadn't read any Rushdie since Midnight's Children, and I thought that this must be the Old Guard, stale and irrelevant, pulling a few strings to steal a few more moments in the Literary spotlight. This was compounded by reading an article somewhere that suggested something similar on the back of his ex-agent being involved with the short-listing. And then I read it. What a treat! Very funny, full of allusions to contemporary culture, bonkers story -within- a -story structure. One review I read suggested that Rushdie was just showing off with his verbal pyrotechnics used for no greater purpose, but that is a jaded and cynical view, I think. Genuinely enjoyable.
Middle England by Jonathan Coe
Seven eighths of this book is glorious, a frustrated Remainer's tonic. It uses the much-loved character of Benjamin Trotter and friends, who first appeared in The Rotters Club back in 2001 (was it really 18 years ago?), to explore what Brexit meant to fifty- something vaguely liberal lefty middle class handwringers. Some hilarious set piece scenes and some skilful skewering of the political classes and the rise of unquestioned racism in our society, make the book both entertaining and analytical. Coe's prose style, similar to David Nicholls in many ways, never intrudes on the unfolding of the story. My only caveat was the ending which I found unconvincing. Nonetheless, I can't wait for Trotter's next outing, hopefully to expose the dog's breakfast Johnson will inevitably make of Brexit and to be part of the come-uppance such a calculated programme of lies deserves.
Shadowplay by Joseph O'Connor
This is a glorious imagining of the relationship between Bram Stoker, he of Dracula fame, Henry Irving, and Ellen Terry at the end of the nineteenth century /beginning of the twentieth. Irving, the celebrity actor producer of the late Victorian stage takes Stoker and his wife under his wing and relocates him from Dublin to London where Irving has become the Actor/Manager of The Lyceum. An intense set of relationships is explored, enmeshed in delightful period detail, with appearances by Oscar Wilde and Jack the Ripper in the suitably foggy streets of London. "Star of the Sea" by O'Connor is one of my all-time favourite books and this is a worthy return to that kind of form
Sacred Country by Rose Tremain
What a great writer Tremain is. This was another chance selection on a routine trip to the library, but what a find it proved to be. This was first published in 1992 and is astonishingly ahead of its time. It was reissued in 2017 to exploit the recent interest in transgender issues and it's a book that must be read. It is, in part, the first person narrative of a girl who feels she has always actually been a boy. It starts in the fifties in rural Suffolk and relates her struggle to make the transition in a much less sympathetic time. Beautiful and affecting. Read it.
My Books of the Year, Part 2
The Hunting Party by Lucy Foley
This squeaks into the last days of 2019 as one of my Christmas presents. It's been riding high in the best seller lists for a few weeks now, and I wanted to recreate Christmases of my youth when I would always treat myself to an Agatha Christie or an Alastair Maclean. They were the perfect books to bridge the wasteland years between 12 and 15 – short, immaculate lessons in plotting and manipulating an ensemble of characters. Foley was a Literary agent who has clearly learned the lessons of what makes a best seller. I was unsure when I started: there was a repeated phrase on the same page and I couldn't think of a reason for that to have been done stylistically for effect, so I assumed it was a sign of a formulaic, crappy pot-boiler. The other black mark was the first person narrative, beloved of literary agents and consultants as being more intimate and immediate. So boring, so cliched , so wrong. But actually, in the end, that was me. Boring , cliched, wrong. And probably a little jealous that an agent can knock off a book and make such a success of it. Yes, they actually can walk the walk as well as talk it. I finished it in a day and a half and it's an enjoyable read. It's a variant on the houseparty detective novel. There's a small group of characters thrown together for a few days, snowed in to their exclusive Scottish Highland holiday mansion, when one of them is murdered. It can only be one of the others whodunnit. The first person narrative extends over named chapters that cycle around the main six or seven characters and there's a clever timeslip element to the structure. A snowy, scenic setting and some ghasty middle class yuppie type characters and a murder. I can see the ITV miniseries now. And, I imagine, so could Lucy when she was planning it. A nice festive palate cleanser.
Drive your plow over the bones of the dead by Olga Tokarczuk
Another whodunnit, but of a very different kind this time. This is a bit of a cheek because I'm only three quarters of the way through it (another Christmas present), but it was too good to leave out. This book is delicious. From the cover which is brilliantly, brutally Stalinist in its stark functionality, to the first person narrative (see above) which is an authentic insight into the mind of a genuinely interesting, unusual character, to the evocation of the freezing snow-bound wilderness on the Czech/Polish border, via the unravelling of a series of bizarre murders, everything about this book is a treat. The main character's musings, as the story unrolls, reveal her thoughts on the poetry of Blake, astrology, militant animal rights, illness (Her "Ailments"), nature, children versus adults and much more besides. A short, lovely book.
This was my favourite book of the year. If you want something that will wrap you in a warm embrace for several weeks, so that you eventually deliberately slow down to delay the awful prospect of it not being part of your life, then this is the book. It's engaging, affective, moving, clever, thought provoking and entertaining. Its got a clever time slip element between the civil rights movement of the sixties to contemporary America, romance, and social commentary. It's a straight 9 out of 10. Lucky you if you havent read it yet.
There were some turkeys:
My Absolute Darling by Gabriel Tallent.
I got this out of the library on spec, after having spent much of the previous year seeing its distinctive yellow cover in bookshops prominently displayed. It's a chunky hardback with some hardcore recommendations on the front and back from the great and the good. About third of the way in I thought I had discovered a major new talent. The prose was extraordinary: sinuous, inventive, poetic, but unlike some of the more experimental writers around, Tallent seemed able to combine those figurative qualities with clear communication of meaning. He is particularly impressive conveying a sense of the rural location in woodlands by the California coast.
But the last two thirds were dreadful, as it slipped into being a horribly exploitative book about male violence, power, child abuse riddled with cliches, improbable plot twists and action sequences. Avoid at all costs.
Lanny by Max Porter
I haven't read Grief is a Thing with Feathers but was aware of Porter's reputation. I started this and couldn't manage more than about 35 pages. I'm a big fan of experimental, inventive prose, so don't get me wrong and think I'm dismissing this because it didn't tell a straight linear narrative. It just seemd to me to be wilfully obscure and difficult for its own sake. Thankfully, I'm old enough now not to make the mistake of thinking that if I don't like a book then it means that the book is bad. The act of writing a novel is a labour of love, involving long hours of sweat and brain ache and self-doubt, followed by an agonising period of public exposure to possible humiliation. The book is not bad – there are far too many distinguished people who loved it for that to be true. It just didn't speak to me. You might be luckier.
Paris Echo by Sebastian Faulks
I've loved many of Faulks' books in the past: Birdsong and Charlotte Gray are two of my all-time favourites. This was a novel that was phoned in. It is one big nothing, that exists beecause of what he has done before. It would never have made it past any Literary agent had it been a debut novel. A complete waste of everybody's time. Sorry Sebastian.
Mentioned in despatches
Honourable mentions must go to, in no particular order:
Washington Black-Esi Edugyan
The Mars Room – Rachel Kushner
Everything Under – Daisy Johnson
How to be Right – James O'Brien
The Overstory – Rchard Powers. (although there were too many trees for my liking. I know you can never have too many trees these days. Except in a book)
The Secret Commonwealth by Philip Pullman
This is the long awaited second instalment of Pullman's trilogy, The Book of Dust, a sequence that revisits the fantasy parallel England of His Dark Materials. Anyone interested in children's literature or the fantasy genre as a whole, will have been counting down the weeks until this release, such is the power of Pullman's fictional world, and the impact that the original trilogy had when first published in 1995. Those original fans will soon be joined by a whole new group generated by the BBC adaptation of His Dark Materials which is set to air on Sunday November 3rd. The trailer certainly suggests that it will be a much more successful rendition than the ill-fated dog's dinner that was the 2007 blockbuster starring Nicole Kidman and Daniel Craig. Not that that would be too difficult mind you.
So Pullman is hot stuff at the moment. But what about the book? Let's just get a few things out of the way first. Pullman is A Great Writer. His Sally Lockhart novels are glorious confections of London Victorian adventure mysteries, with pea soupers and coal stained brick warehouses on the banks of the filthy Thames. Those alone would guarantee his reputation. But it's the first trilogy, His Dark Materials, that moves him into the ranks of the genuinely great. Engrossing, believable, moving, challenging, Pullman creates a parallel world that is both restrained and oddly familiar. He asks big questions about belief, orthodoxy, law and punishment and democracy. But perhaps his greatest achievement is the creation of his central protagonist, Lyra Belacqua, and his invention of the notion of the Daemon, an animal- like creature that everyone in this world has as a lifelong companion, a representation of the soul, the quintessence of the individual. Lyra is one the most memorable characters in children's fiction. In all fiction. Appearing first as an eleven year old girl in a version of Oxford University, she is resilient, loyal, brave, intelligent, and without any trace of snobbery or prejudice about race, class or gender. And she is one half of one of the greatest love stories ever told.
The first instalment of The Book Of Dust, La Belle Sauvage, featured Lyra as an infant, rescued from the baddies by Malcolm Polstead, an eleven year old boy. The second book moves us on twenty years. Lyra is now an undergraduate at Jordan College. Malcolm, is a University Lecturer. They both become caught up in the struggle between the CDD, the repressive state police, responsible for rigorously enforcing religious orthodoxy, and the liberal resistance. The struggle centres around the control of the source of a mysteriously powerful species of rose oil that is grown in the Levant (the equivalent of Syria/Turkey) Pullman uses this to reflect upon contemporary struggles between the West and the Islamic world, on the issues of religious wars, refugees, terrorism, populism. It dies s through the vehicle of a journey eastwards from Oxford, to the Middle East. The journey has all the elements of the classic adventure story: the main protagonists are split up and are all on separate quests to find themselves and to find solutions to their separate problems. Their journeys allow Pullman to paint a vivid picture of exotic lands, full of bazaars, train stations, cafes and markets, serially escaping dangerous situations, only to fall into more dangerous situations. It's exciting and mostly well told. Pullman can still knock out a page turner. Mostly.
But. This is not a children's book. It's complex, dealing with real world issues of politics and prejudice. It is quite adult at times, in its language and depiction of relationships. The depiction of a near gang rape is genuinely disturbing. Pullman himself would I think be quite pleased with that verdict. He has been very reluctant himself to categorise his novels as being for children. And there is a strength in that, because it allows him to break free of the constraints imposed by genre. The worst crime Pullman commits, however, is that, at times it's a little ….dull. The political wranglings of the Pullman equivalent of The Vatican are arcane and convoluted, and I'd be surprised if they held the attention of many children. Certainly not the ones I know nor the ones I have taught. And it suffers, above all else, from the curse of the established writer. It's far too long.
Weighing in at over 700 pages, this is a book that wouldn't have got past the first fence had he been an unknown. That first book has to be absolutely tightly- wrought, like a finely tuned piano. Not a spare word out of place, coming in at under 300 pages tops, the draconian guidelines of publishers and agents at least produce economy and crackle. They impose discipline as much as formulaic writing. Look what happens when you've made it. JK Rowling's Harry Potter books just kept getting longer and longer as no-one would dare to suggest to the behemoth, Jo, maybe you need to rein it in a bit, love. One can only be grateful that she had only planned seven of them. If she had kept going, we would have been at over the thousand page mark by now, no question. The same applies here.
I'm sounding very negative. It's still a wonderful book and he's still a titanic writer, but it's only a four star member of his astonishing list of achievements. And when you've set the bar as high as he has, that's a little disappointing. If you're an English teacher, or you just love books, you still must read this. And hopefully, you'll love it more than I did.
Dogrel – Fontaines DC
Of course, the great thing about Spotify for all of us old timers who still love music, is that you can try out anything you hear about and see whether it tickles your fancy. It's risk free, unlike back in the day when, if you were lucky, you heard something on John Peel late at night and were sufficiently struck to go out and buy it the next weekend. You had to be sure, because an album was a huge investment back then and a balance had to be struck between the excitement of finding something new and the responsibility of not blowing your beer money on something that would eventually turn out to be either ordinary or a little embarrassing.
Nowadays, the fact that I read about how great Sharon Van Etten's latest record was and that that led me to download it from Spotify, only to find that, actually, it was a dreadfully dull dirge, these days that is not such a disaster. It remains in my Spotify library, untouched. I gave it another go (the third) last week, in a rare fit of open-minded second chance giving. It was still pants.
But all of this is made meaningless by the occasional discovery of something beautiful and stirring. Which brings me on to the wonders that are Fontaines DC, who, I discover, are listed for the Mercury Prize. In the same way The Black Keys had echoes of the first half of the Seventies, with their bluesy rock, guitar, bass and drums based sound, Fontaines DC recall the sound and feel of the latter part of The Seventies. On first hearing, on Spotify in the car, I almost had to pull off the road, so strong were the associations. I was transported back to the refectory at Leeds University, sweat condensing on the ceiling as we bounced to The Clash, thrilled by the raw energy of it, intrigued by the intelligence of the lyrics, and intoxicated by the sense of the sweeping away of the old.
There's no sweeping away of the old here. All that was, has gone and is back again, so nothing shocks in quite the same way, but the songs are wonderful, the lyrics clever, the melodies a sweet counterpoint, the drive insistent. The illegitimate love child of The Clash and The Pogues, after a quick fumble with Joy Division, Fontaines DC produce a compelling love letter to Dublin, their home city. In the opening song, "Big" they announce their intent with a great first line: "Dublin in the rain is mine/ A catholic city with a pregnant mind". The song also boasts a chorus that should be etched on the consciousness of every teacher.
"My childhood was small,
My childhood was small.
But I'm gonna be Big.
I'm gonna be Big"
A lovely reminder of the bygone age of "Every Child Matters"
On "Television Screens", the first few bars, with the driving drums and bass and spiky, jangling guitar, slicing across are eerily reminiscent of Joy Division, so much so that when that section arrives at the point when the vocals should interject, people of a certain age, will be able to see in their mind's eye, Ian Curtis, manically flailing his arms around, juddering from side to side as if someone had inserted an extra battery, about to launch into the lyrics. What's even more reassuring is that when it turns out to be not Curtis but lead singer Grian Chatten, there is no disappointment, just a feeling of being in very safe hands
Their love of all things Irish permeates the album, which concludes with "Dublin City Sky" , a gorgeous Pogues-like ballad about love and loss, and "Boys from the Better Land" with its memorable verse,
" You're not alive until you start kicking
When the room is spinning and the words ain't sticking
And the radio is all about a run away model
With a face like sin and a heart like a James Joyce novel"
It turns out that they have been nominated for The Mercury prize. No matter what happens with that (and I have a very bad track record of picking winners) think of this as a gift from me to you. An early Christmas present. Download it. Because one thing I am sure of.
Their childhood was small. Their childhood was small. But they're gonna be Big. They're gonna be Big.
Once Upon a Time in Hollywood
Directed by Quentin Tarantino. Running Time: 2hr 45m. Starring:Leonardo DiCaprio, Brad Pitt, Margot Robbie
I went to this as a Tarantino virgin. Of course, I've seen untold clips from Pulp Fiction and Reservoir dogs, but for some reason, never a whole film, all the way through. It felt like I'd just missed the boat. Even at the beginning, when he was the hippest film maker in town, for some reason our paths did not cross. And latterly, exposed as a ghastly chauvinist and apologist for the likes of Harvey Weinstein, he held little appeal. And then there was the violence. Yes, I know, it was comic book and ironic, knowing and referential, but still it was enough to put me off shelling out to see his films at the cinema.
So I went to this as a sceptic. And came out as a convert. Apart from three minutes of ghastly, gratuitous violence at the end of the film, it was a magnificent, bravura piece of film making. The homage to late Sixties LA culture, with a fabulous soundtrack and wonderful sets and costumes, was delightful. Pitt and DiCaprio were a great double act, with their complex and nuanced "friendship" at the heart of the film. The criticism on-line of Tarantino marginalising Margot Robbie by giving her hardly any lines in comparison to the two big beast leads, misses the point, I think. I'd normally be right there criticising Tarantino's chauvinism, but the film is not really about Sharon Tate and therefore isn't really about Margot Robbie. The handling of the Charles Manson story is subtly skewed so history is reworked and it's a better film as a result.
There's also a tantalising bit of evidence that he's trying to behave himself in the light of #metoo. The Brad Pitt character gives a lift to the clearly underage sexually aware hippy girl and she propositions him. He takes the trouble to ascertain her age before turning her down when he finds out she is too young. It was so transparent you could see Tarantino having the conversation with his lawyer behind the screen. Didn't fit the times nor the character, and there was just a sense that he was "playing" the issue while earning brownie points. Like Sir Geoffrey Boycott sponsoring a women's refuge.
It's not perfect, hence the four stars. The opening half is baggy and self-indulgent. You get the feeling that Tarantino was having a whale of a time, and no-one was going to tell him to leave that scene on the cutting room floor, but it could easily have been at least twenty minutes shorter. And there is that nasty blood rage at the end. But I'll forgive him all of the faults for the scene where Pitt's character goes to visit an old Hollywood ranch film set where the Westerns used to be made. Now in crumbling disrepair, it's been effectively squatted by the psychotic hippies that fall in with Manson. Pitt goes to visit an old colleague, concerned for his welfare. He parks just inside the entrance and his buddy lives in a trailer at the far end of the lot. The darkness underlying the Summer of Love and its aftermath, seeps through the luminous sunny colours as Pitt walks the length of the ramshackle film ranch, with every step ratcheting up a sense of fear and foreboding in the audience. It's a masterclass in creating tension.
Go and see it. And while you do that, I'll stream all of his others. I've already waited too long.